TRINITY ON THE HILL EPISCOPAL CHURCH
---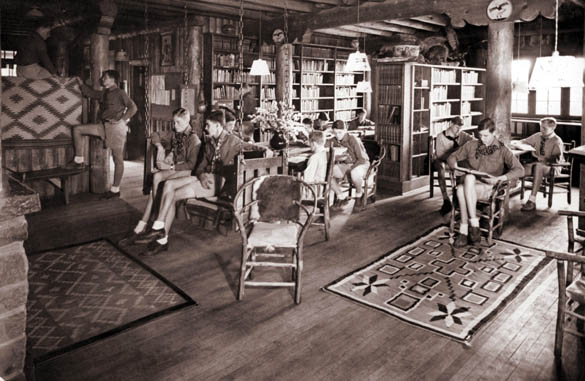 When World War II and secret, scientific research for the Manhattan Project brought newcomers to the isolated Pajarito Plateau in the north-central mountains of New Mexico, the town of Los Alamos was born. It was during this time that TOTH had its beginning in the work of the Rev. C.J. Kinsolving, III, then rector of the Church of the Holy Faith in Santa Fe, and of Army Chaplain Matthew H. Imre. They conducted services for the small group of Episcopalians employed on the Project. These services were held in the library of the Big House, part of the original Los Alamos Ranch School (now Fuller Lodge).
Under the guidance of the Rt. Rev. James M. Stoney, TOTH was established as a mission in 1949. The Rev. Eldon W. Borrell was assigned as vicar in 1950. With Fr. Borell's appointment came regular Sunday services and further growth of the young congregation (the average age was less than 30). Services were held in temporary locations throughout the town site, including the Army's former West mess on Trinity Drive. By 1953 we were ready for our first permanent home, and on June 13, 1954 we dedicated our own building. In 1957 we added an educational wing, in 1965 we added a two-story building to the original structure, providing a new chancel, nave, parish hall, and choir rooms, and in 2009 our large new communal hall and kitchen, Kelly Hall, was completed.
The Rev. Kenneth Shook succeeded Fr. Borell as vicar in 1951 and served Trinity on the Hill until 1958. Since then the parish has been guided and served by the Revs. William Frey, William Wolfrum, Milton Rohane, the Rev. Canon Colin P. Kelly, III, The Rev. Dr. Gary Lee Baldwin, the Rev. Chris Adams, and Canon Raymond Raney, our current interim priest.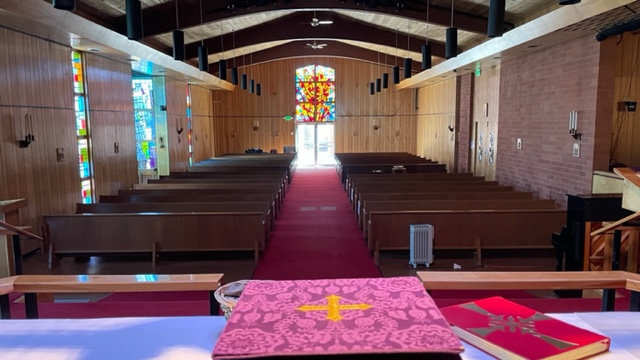 Our parish has supported missions in more than fifteen countries, and has helped bring fourteen people into ordained ministry: the Revs. Robert Buck, Robert Dinegar, Michael Moore, David Todd, Richard Godbold, Sara Balcomb, Jim and Mary Trainor, Brian Winter, Kay Anders, Alicia Pope, Louise Weiss, Diane Figge, and our current priest associate, Laurie Triplett, who is also a full-time engineer at Los Alamos National Laboratory. In the past year another parishioner has finished seminary and been ordained a transitional deacon, and our long-time organist has left to enter seminary. Our parish has rejoiced in the ordination to the office of bishop of two of our past rectors, Fr. Frey and Fr. Wolfrum, and has grown from 15 communicants in 1944 to over 250 in 2021.
Parish Involvement in the Community
TOTH traditionally has been very involved in the wider community, and we are looking for a new rector to continue that tradition. For example, we maintain and staff a thrift shop, the proceeds of which are donated to a number of local charities and causes. (There is a good story about the Thrift Shop here.) TOTH volunteers have for many years offered free Friday lunches to students at the adjacent high school. We sponsor the annual Children's Christmas Bazaar, a very popular, community-wide event in which volunteers help young children shop and wrap presents for their families. We sponsor and participate in home-building for families in Juárez, Mexico, and we provide facilities for many community organizations, including Alcoholics Anonymous and the Kiwanis. Some of these activities had to be suspended during the COVID pandemic, but we are committed to resuming them as soon as possible.
Youth Programs
TOTH traditionally has had strong youth programs, including in recent years both a youth choir and a chime choir for very young children, as well as programs and events for teens and tweens. These programs have been disrupted by the COVID pandemic, but the parish believes strongly in the importance of attending to the spiritual and social development of our youth; thus, we are looking for a new rector to help restore and even expand these programs.
Challenges
The State of New Mexico, the Diocese of the Rio Grande, and the town's largest employer, Los Alamos National Laboratory (or "the Lab"), all put into place fairly aggressive COVID masking, social distancing, and vaccination requirements in a commendable attempt to protect the health of our whole community, and especially the most vulnerable among us. These measures undoubtedly saved lives, but they also substantially disrupted our parish life and our church activities and missions, as they no doubt did for many other churches and organizations. One of the primary challenges our new rector at Trinity on the Hill Episcopal Church (TOTH) will have is to help us reestablish our missions and parish activities to the extent possible, whatever the future path of the pandemic may be. We need to find ways to bring back to our services those who have felt unsafe attending in-person; we are looking for a new rector who, with the grace of God, is up to these challenges.
The quality and character of sermons are especially important to our congregation. While we expect sermons to be inspirational, our congregation also thrives on sermons with logical consistency and significant educational and/or intellectual content. Bringing the context of Jesus' times, and for that matter old testament times, and making it relevant today via comparing and contrasting of geopolitical, geographical, rabbinical/religious customs, and Hebrew culture, all help the congregation to develop a better understanding of those times and our current ones.
Los Alamos residents span the full range of political persuasions. Our congregation also spans several generations and several cultures, each with varying attitudes and values. It is important to us that all feel welcome here and that we avoid getting tangled into the highly emotional and highly partisan political and cultural wars so dividing the nation these days. We are committed to the fundamental Christian message of loving our neighbor as ourselves and seeking to bring the Gospel in action to the wider world.