Join us on Sunday, May 28th, at either 8am or 10:30am as we celebrate the Feast of Pentecost.
We'd love to see you there!
Pentecost, in the Christian tradition, is the seventh Sunday after Easter. It emphasizes that the church is understood as the body of Christ which is drawn together and given life by the Holy Spirit. Some understand Pentecost to be the origin and sending out of the church into the world.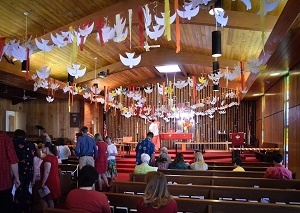 The Day of Pentecost is one of the seven principal feasts of the church year in the Episcopal Church. The Day of Pentecost is identified by the BCP (p. 15) as one of the feasts that is "especially appropriate" for baptism (p. 312). The liturgical color for the feast is red.